Hiring A Maid Service Scottsdale Arizona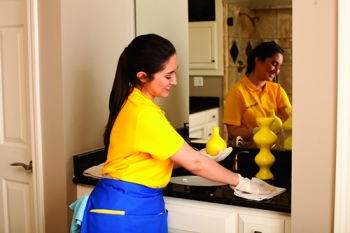 Do you find yourself beginning to feel fed up with balancing all the house chores - like cleaning the house, preparing meals and driving the kids to activities? Make your house cleaner and make your family healthier and happier by hiring a maid service. This is just one way to take some work off your plate so that you can focus on other more important areas. So how do you decide which is the best maid service for you? Listed below are a few tips on hiring a maid service:
Are they bonded and insured?
Many independent maid services automatically assume that homeowners have their own insurance and too often clients assume that service companies carry insurance against accidents and theft. There are many times that the homeowners insurance is not going to cover every situation. When hiring a maid service, seek out a well accredited company such as The Maids Scottsdale who make certain their workers are bonded and insured.
Are workers documented?
There are many maid services companies who utilize undocumented personnel in order to minimize their business expenses. The Maids makes certain that all of their workers are in compliance with the United States law.
Do they take care of paying taxes, social security and workers compensation?
A locally owned franchise just like The Maids Scottsdale incorporates almost all taxes, social security as well as other charges in their regular service agreement. There will be no need for you to attend to any extra paperwork or pay any hidden costs.
What is their method in hiring, screening and training their employees?
Being able to trust someone in your home is of the utmost importance to you and is a high priority to consider when hiring a maid service. Has the maid service you are considering checked out employee references? What about criminal background verification? Are their workers working for them full-time or do they subcontract? A maid service that utilizes subcontractors does not have control over their training. The Maids ensure that their employees are trustworthy and also provide them with in depth training in research based cleaning methods. Personnel undertake periodic re-training to make sure they're updated.
Do they have their very own equipment and cleaning solutions?
If not, are you the one to supply all these items? Yet another way some maid services try to cut costs is having the employer provide everything. So you are paying for a company to provide a service and also paying for the tools they need to provide this service. Hiring a maid service such as The Maids, you are given the assurance that we only use the highest quality, environmentally friendly cleaning products and our backpack vacuum with HEPA filter ensures that allergens and dirt located underneath the furniture and in corners is removed and not spread around like a traditional cleaner may do. Staph, E-coli and other bacteria could be eliminated with our unique cleaning formulas that are bio-based and work by simply emulating the way in which nature cleans itself.
Were you furnished with references?
A reliable company is likely to furnish client references to assist you in hiring a maid service you can trust. Find out via these customer references whether or not the maid service is actually somebody they can strongly recommend. Does the company and its employees treat them properly? Find out if they speak about it happily. Our clients at The Maids usually inform us that we are the very first company whose maid services cleaned their home totally to their satisfaction. Be sure you ask the right questions the very first time.
Customer guarantee: Will they provide this?
Customer satisfaction guarantee is instantly available by companies who're certain that they can give high quality service. Make sure to know how you'll be able to get hold of the company should you have any issues about your cleaning.
Versatility of Cleaning Schedules: Will they be versatile? When they have a worker who is sick, do they cancel your cleaning?
In case you are hiring a maid service from a larger, team service company just like The Maids, you can be assured your cleaning will happen on schedule regardless of whether one member is absent. In addition, a larger company is usually often more versatile about changing your scheduled cleaning if you need a different day.
Quality of Service: How is it Monitored?
Does the company currently have surveys that you can take a look at? How about feedback, is there a quick and easy way for you to do this? Are personnel checked periodically? Look for a company that cares about quality control and improvement if you're planning on hiring a maid service.