Cleaning Services Scottsdale Arizona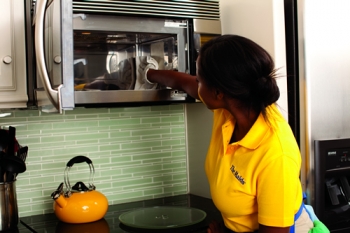 The Maids Healthy Touch® Deep Cleaning System was created to establish a healthy and outstanding cleaning service designed to leave your home with the best living environment possible. Healthy Touch® involves a 22 step plan which integrates the best cleaning supplies with great attention to detail by all our cleaning professionals. Our cleaning solutions are environmentally friendly and our high tech backpack vacuum provides HEPA filtering that guarantees you a cleaner and healthier home.
22 Special Steps to a Cleaner Home
Kitchen Cleaning Services
Clean sink - Although the kitchen sink always seems to be spotless, there are microorganisms in it that the naked eye can not see. The Maids ensure your sink is free of bacteria by cleaning this area as thoroughly as possible.
Clean appliance exteriors - As even the smallest finger prints and smudges are noticeable on today's stainless steel and kitchen appliances, The Maids will take the time to make sure these appliances are left clean and shiny.
Clean inside microwave - Every corner of the kitchen is cleaned including the corners inside your microwave oven. The Maids Scottsdale will leave your microwave clean inside and out.
Clean range top - Never bother about splatters or grease whilst creating meals again! The Maids will remove food remnants and grease spatters leaving you with a thoroughly clean range top.
Damp wipe cabinet doors - Grease is the enemy of the sparkling kitchen. Dust particles stick to grease and cupboard doors start looking dull and grimy. We will leave your kitchen cabinets looking fresh and clean by removing this greasy buildup..
Clean counters - The large surfaces of your kitchen counters are always being used! Our eco friendly cleaning products ensure that these kitchen counter tops are clean and germ free.
Hand wash floor - Between food preparation and people in and out of the kitchen, the floor becomes a great gathering place for germs and bacteria. The Maids will wash the kitchen floor on hands and knees - leaving it safe for you and your family.
Load dishwasher - Another one of the smaller details that The Maids will take care of - loading the dirty dishes in the dishwasher.
Room Cleaning Services
Pick up and straighten - The Maids Scottsdale will tidy and straighten all the rooms in your home, ensuring that everything is neat and clean.
Dust sills, ledges, wall hangings - Dust accumulates on sills, ledges and wall hangings without you even noticing it. We will be sure that all these areas are left completely clean and dust free.
Remove cobwebs - Cobwebs always end up in those out of the way places and are frequently overlooked by the homeowners when cleaning the house. The Maids possess a proactive method that gets rid of even the smallest cobwebs each time we clean.
Dust/vacuum furniture - The Maids will take care of removing dust from your furniture by wiping and/or vacuuming the furnishings in your home.
Vacuum floors, carpets - We will vacuum all carpeting and rugs, particularly at the edges to eliminate dirt and dust.
Vacuum stairs - Dust and dirt from the stairways are often times disregarded as it is difficult to clean. But our teams vacuum your entire stairway every single time using their specialized backpack vacuum.
Vacuum under beds - The Maids will take care of vacuuming those forgotten places like under the bed as well as changing bed linens with clean sets.
Empty trash - The smallest details are taken care of - emptying your trash can is just one of those small details included in our services.
Bathroom Cleaning Services
Clean sinks, counters and Change towels - The Maids will ensure that your bathroom is cleaned and disinfected along with replacing the towels with clean ones.
Clean and sanitize toilets, tubs, showers - Cleaning the toilet and tubs are the tasks that no one enjoys doing! The Maids will take care of this with their eco-friendly cleaning products ensuring that toilets, tubs and showers are cleaned and sanitized.
Hand wash, disinfect floors - The bathroom floor will not be forgotten as The Maids will hand wash and/or vacuum the bathroom floor leaving you with a clean and germ-free bathroom.
Windows Clean entry window - including one set of patio door windows. The Maids will certainly leave your door and patio nice and clean for visitors.
Clean window over kitchen sink - Next time you do the dishes, you are likely to take a look at a glowing, sparkling window; thanks to The Maids.
We Use Healthy Cleaning Supplies to Make Your Home Shine With Our Cleaning Services
Immediately after our professional cleaning team has finished our remarkable home cleaning services to your house, you will breathe much easier (literally!) because we provide you with an extensive, healthy cleaning all the way through. The Maids Scottsdale clean spots many other providers would skip such as deep under beds and on top of refrigerators.
We will ensure that all dirt and germs are removed from your kitchen and bathroom floors by scrubbing these on our hands and knees. We even brush clean the toilet seat hinges on each and every visit. We've got our own environmentally safe cleaning supplies that we use to leave you with a healthy, safe home, free of chemical residues.
We understand that it's vital for you to get a deep cleaning for your home and that's the reason why our trustworthy Maids staff are equipped with the training and tools to get it done! Get some free time back in your life with regular cleaning from The Maids! Call us today for a free estimate.