Cleaning Services Scottsdale Arizona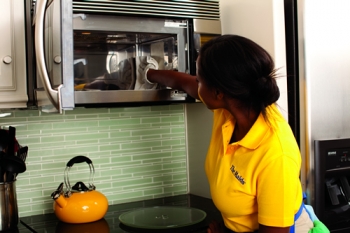 We understand everyone's needs are different. We've designed our services to provide you what you need, when you need it. The first step to choosing a level of service is deciding what's important to you. The second step is deciding what frequency will meet your needs.
LEVELS OF SERVICE:
A La Carte Service: Maybe you don't need *everything* cleaned! Maybe you keep up with the majority of the cleaning yourself, but would like to have help with your bathrooms and floors. Or maybe on occasion you just need deep clean areas cleaned like baseboards and blinds. Welcome to A La Carte Service! You provide the priority list, and tell us whether you'd like us to work until the list is complete, or set a maximum budget and we'll work through as much of the list as we can in the time provided!
Simple Service: With Simple Service, we send a team of professionals to give your home a quick once over. They'll wipe all the surfaces in the kitchen, clean all the surfaces in the bathrooms, dust or vacuum all the furniture, and vacuum/mop all the floors. They'll skip deep clean areas like baseboards and blinds, leaving your house fresh and tidy while keeping your budget in check!
Full Service: By far the most popular choice! Full Service cleans are structured to maintain your kitchen, bathrooms, furniture, and floors every visit. On top of that, we'll also rotate through your deep clean areas like baseboards, window sills, blinds, shutters, air vents, hanging pictures, etc. This service will keep your commonly used areas cleaned, as well as maintaining those places where dust bunnies and build up tend to sneak up on you!
Spotless Service: Do you have allergies or breathing problems? Do you prefer to have everything cleaned every visit? Say hello to Spotless Service! Every visit, we'll clean your kitchen, bathrooms, furniture, and floors, as well as ALL deep clean areas! Leaving no stone unturned so to speak, we'll make sure your home is spick-n-span!
Not sure what level of service you need, or wondering if you can make some minor adjustments? Our staff is more than willing to customize your clean! Just give us a call and we'll work out the right level of service for your specific needs!
FREQUENCY OF SERVICE:
Recurring Service: This is where your home is cleaned on a recurring schedule. You decide if you'd like us to clean Every Week, Every Other Week, or Every Four Weeks! Then together we'll pick a day of the week that works for you, and assign you to a specific team so we can make sure to provide you the highest level of quality and consistency. All levels of service are available for recurring schedules. And as an added benefit, we can typically flat-rate your price so you'll know exactly what your cost will be each visit!
Occasional Service: Some customers refer to this as "on-call" service! You call us when you need us, tell us what level of service you'd like, and choose from our available teams, dates, and times. Most levels of service are charged hourly, and we pro-rate the price to the closest 5 minutes so you only pay for the time you use!
We understand that it's vital for you to get a cleaning service that is right for your home - and that's the reason why our trustworthy Maids staff are equipped with the training and tools to get it done! Get some free time back in your life with a cleaning service from The Maids! Call us today for a free estimate.